Tank/Mixer Assembly
Series 3003 - Portable Laboratory Model

Model DDC-05-100/1000-TEFC/SS
Tank/Mixer for laboratory use where controls and displays are essential.
Specifications
DC Motor, ½ HP, 1750 rpm, TEFC
Variable Speed, 100 to 1000 rpm
Vessel capacity, 5 gallon, 12" dia x 12" deep
Electrical heating & controls, 800W
OAH 36"
Materials: SS316
Input to SCR controller, heating & temperature display is 1/60/120V
Standard Features
Turbine, high efficiency
SCR variable speed controller
Thermo probe
Digital temperature display
Flush bottom ball valve
Liquid level gage
Wheels with brake
Hinged cover
Humidity proof wiring
Sanitary finish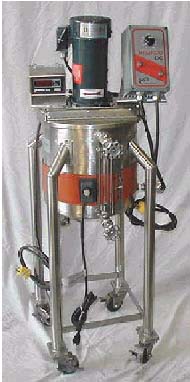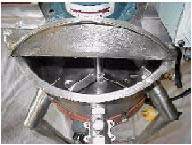 Lab Dispersing and Blending System
Dual Lab Air Mixers with Reactor

Model LDB-100EX-1
The Lab Dispersing & Blending System consists of 3 major assemblies:
Series 501, Model AM-150-P Lab Air Disperser, Variable High Speed
Series 501A, Model AM-150A-P-20/200RPM, Lab Air Mixer/Agitator, Variable Low Speed
Model TFDU-2G-75, Reactor with 75 psig heating/cooling jacket and split flat cover
This Lab Station is used to process products needing explosion proof capabilities. The product may be subjected to high shear action on the Series 501 Disperser. The product may also be subjected to a blending action under the Series 501A Mixer/Agitator. The reactor, cone bottom and flush mounted ball valve, may be used as the mixing vessel with the versatility of controlling the temperature of the product being processed. The high speed high shear blade may be substituted with a Teflon disk, thus using the Lab Station as a Lab Mill. Various accessories are available with this system beside the built in tachometers, 3-jaw chucks and the Filter Regulator Lubricator (FRL) shown in the picture. Thermal probe and temperature display, load cells or platform, sight gage, vacuum cover, view ports and view lamp may also be supplied on request.